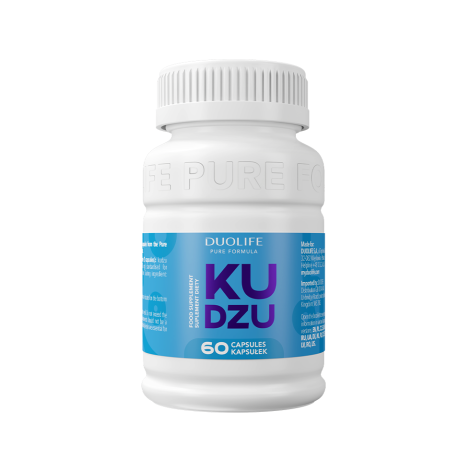 DUOLIFE Kudzu is a food supplement from the Pure Formula line containing kudzu root extract in a concentrated dose.
It is enclosed in capsules made of HPMC, an organic cellulose derivative, with delayed release time.
Kudzu root extract might support those battling alcohol or nicotine addiction.
Moreover, it helps maintain hormonal and emotional balance.
Kudzu also helps maintain the optimal condition of the cardiovascular system.
Kudzu root extract is standardised to contain 7% of isoflavones. Thanks to standardisation, the amount of isoflavones in the product is guaranteed.
---
people battling alcohol or nicotine addiction;

people wishing to maintain good mood and mental fitness;

people caring for optimal body hormone balance;

women during menopause, helping to alleviate its symptoms (mood swings, nervousness, hot flashes);

men during andropause;

people wishing to aid body cleansing process;

people wanting to support antioxidative processes and the reduction of the negative impact of oxidative stress on the body;

people wishing to stay in a good shape, including maintaining the acid–base homoeostasis of body fluids;

people caring for the good condition of the circulatory system, particularly blood vessels;

people suffering from stomach issues.
---
Simple, targeted composition
– based on the main active ingredient with known properties and concentrated dose.
Product with comprehensible purpose
– health statements can be found on the label, which makes it easier to recommend the supplement.
Standardised active ingredient
– a guarantee of the declared active compound content.
Naturally sourced ingredients.
No artificial fillers, preservatives or unnecessary additives.
Convenient form of use
– capsules from naturally sourced hydroxypropyl methylcellulose (HPMC) with delayed release time.
Recyclable packaging 
(You will find more information on recycling in the "Storage" tab).
The product is lactose-free.
The product is GMO-free.
GLUTEN-FREE
– suitable for people with gluten intolerance.
The product is suitable for vegans and vegetarians
– thanks to the ingredients used and the vegan capsule shell made of tapioca starch.
Multilingual label.
---
Kudzu so Japanese arrowroot, is native to the area of China, Japan and Korea. Kudzu root is rich in multiple valuable active compounds, among which three main isoflavones should be distinguished: puerarin, daidzin and daidzein, as well as genistein, formononetin, oninine, biochanin A. The content of these ingredients in raw material, depending on plant's origin, may range from 2 to 12%. Apart from isoflavonoid compounds mentioned earlier, the following were confirmed to occur in the kudzu root: aglycones, flavonoid glycosides (apigenin, luteolin, quercetin, rutin, hyperoside), phenolic acids, saponins and mineral ingredients (calcium, magnesium, iron and zinc) as well as seventeen aminoacids of significant importance for the human body.
The DUOLIFE Kudzu food supplement also contains acacia fibre, which synergistically supports the action of the main ingredient.
Ingredients – content in a daily dose (2 capsules): kudzu (Pueraria lobata) root extract 10:1 (700 mg), standardised for 7% isoflavone content (49 mg), acacia fibre. Coating ingredient: hydroxypropyl methylcellulose (HPMC). 
---
Storage: store the product at room temperature, out of the reach of children.
Care for the environment with DUOLIFE and sort waste!
After finishing the product, think about the environment. Throw the label, foil lid and the container with the cap into the appropriate waste containers. You can use the below table.
Environmental table:

---